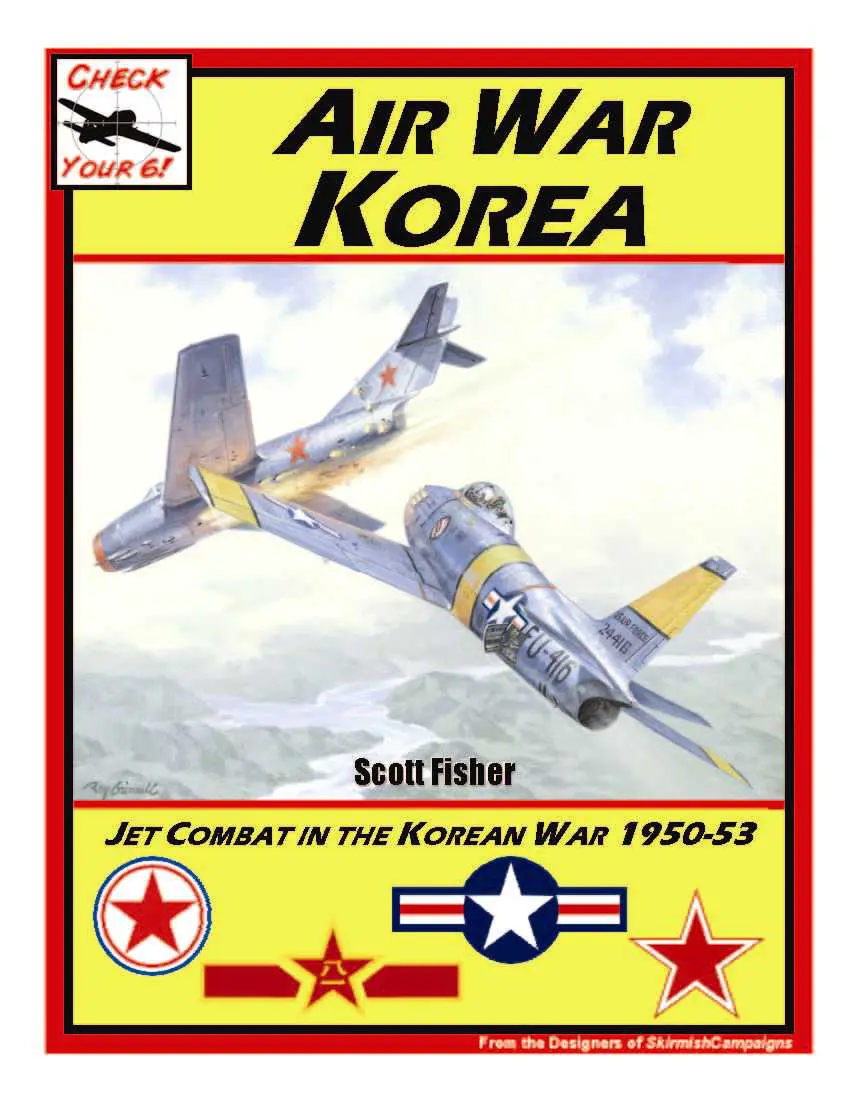 AIR WAR KOREA is a scenario and campaign book for the popular CHECK YOUR 6 JET AGE Air Combat and Campaign Rules. The book provides comprehensive coverage of the air war in Korea under one cover with five campaigns and 32 scenarios. The first mini-campaign follows the start of the Korean War when UN forces attempted to stem the tide of the Communist Invasion from June to December 1950. The following three mini-campaigns cover the fight for MiG Alley January 1951 to December 1951, the "Black Tuesday" UN B-29 attack and the interception of the ChineseTaehwa-do Island mission in October and November 1951, and the fight for air supremacy over Korea from February 1952 to July 1953. A bonus mini-campaign is also included that covers US Navy and Marine operations from 3 July 1950 to 18 November 1952. The book also features some of the Korean War's top aces including James Jabara, George Davis, Frederick "Boots" Blesse, Boris Bokach, Gregorii Ges, Nikolay Ivanov, and Li Han. The scenarios can be played individually, linked to form mini-campaigns, or combined as one grand campaign.
This book includes several introduction sections containing campaign historical background, plus a bibliography for further reading. A campaign map is included.
AIRCRAFT STATISTICS and CAMPAIGN INFORMATION:
This book contains aircraft statistics for more than 10 American, British and Soviet aircraft in Check Your 6 Jet Age format for use in the scenarios. The book also contains detailed notes and rare pictures of the various aircraft featured in the campaign.
Jet Age SPECIAL EVENT CAMPAIGN SYSTEM:
This book includes an innovative Check Your 6 Jet Age campaign system that features the possibility of special campaign events in each scenario. By winning battles, players earn Campaign Events, similar to action cards, which are played during the scenarios. This campaign mechanic allows players to make real-time decisions that shape the battles while adding extra dimension to the scenarios.
Introduction
Acknowledgements and Dedication
Annotated Bibliography
Campaign Map
Campaign History
Stemming the Tide: Jun-Dec 1950
Fight for MiG Alley: Jan-Dec 1951
Black October and Payback Campaign
Battle for Supremacy: Feb 52-July 53
Wings of Gold: Jul 50-Nov 52
Campaign Aircraft
Campaign Rules
Special Campaign Events Tables
Scenario Format
Stemming the Tide Campaign Scenarios
Fight for MiG Alley Campaign Scenarios
Blk Oct & Payback Campaign Scenarios
Battle for Supremacy Camp. Scenarios
Fight for MiG Alley Campaign Scenarios