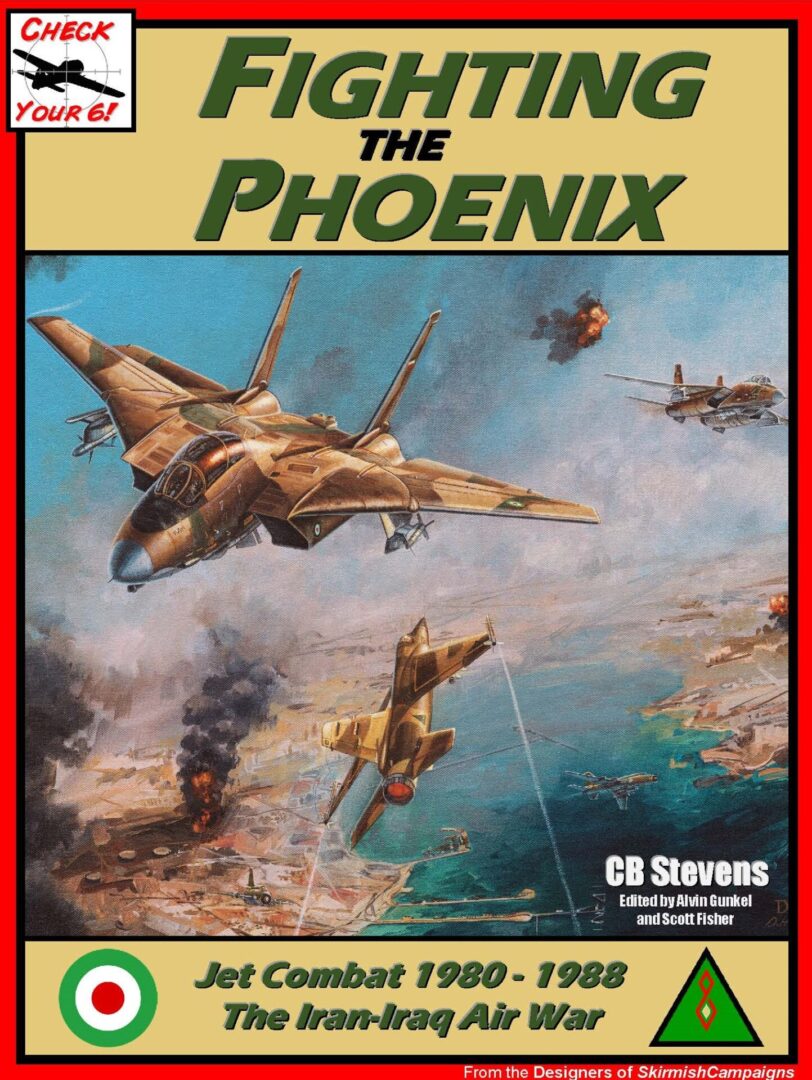 Fighting the Phoenix
The Iran-Iraq Air War 1980-1988
FIGHTING THE PHOENIX is a scenario and campaign book for the popular Check Your 6 Jet Age  Air Combat and Campaign Rules. The book provides comprehensive coverage of the air war between Iran and Iraq from 1980 to 1988 under one cover with nine campaigns and 29 scenarios. The scenarios, featuring 22 different fighter, bomber, and helicopter types in 30 variants plus multiple SAM and patrol boat models, can be played individually, linked to form campaigns, or combined as one grand campaign.
The book includes several introduction sections containing campaign historical background for 8-years of modern-age jet warfare, an annotated bibliography for further reading, and several campaign maps.
AIRCRAFT STATISTICS and CAMPAIGN INFORMATION:
The book contains aircraft statistics for more than 30 US, French and Soviet-built aircraft in Check Your 6 Jet Age format for use in the scenarios. The book also contains detailed notes and rare pictures of the various aircraft, weapons, and equipment featured in the campaign.
Introduction                                                   
Acknowledgements and Dedication
Annotated Bibliography                          
Campaign Maps                                        
Campaign History                                       
 -Pre-war Timeline: 1971-1980
 -The War
 -The Campaigns: 1980-1988
Campaign Aircraft
Campaign and Scenario Rules                  
Iran-Iraq War Special Rules                         
 -Surface Warfare Specific Rules
Iran-Iraq War Historical Rules                     
Campaign Play and Victory Tracking        
Scenario Format                                      
Campaign Scenarios                                     
 -Over the Top! (1980)
 -Paykan (1980)
 -Counterpunch (1981)
 -Battle for Basrah (1982)
 -Rayyan (1985-1986)
 -Turning Tide (1984-1987)
 -Kharg and Cargo (1987)
 -End Game (1988)
 -Invitation to Dance ('83, '84,'87)