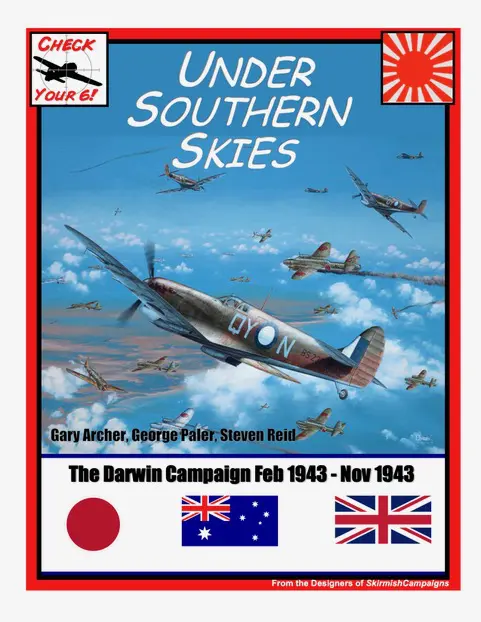 UNDER SOUTHERN SKIES is a scenario and campaign book for the popular CHECK YOUR 6! Air Combat and Campaign Rules. The book provides five campaigns and 35 scenarios covering the air campaign over Darwin, Australia and neighboring Japanese-held islands in 1943. 
Information is provided concerning the reason for the campaign, problems faced by each side, and mistakes made by each side. Special Rules account for mechanical and armament issues plaguing the Allies and the abysmal state of gunnery training in No. 1 Wing. Scenarios were created using primary sources from both sides along with secondary sources; an annotated bibliography listing them is also provided along with several maps.
AIRCRAFT STATISTICS and CAMPAIGN INFORMATION:
Included are aircraft statistics in CHECK YOUR 6! format for the aircraft used in the scenarios, some of which are new, such as license-built Hudsons and Beaufighters, the Ki.48 Lily, and the Ki.49 Helen. The Darwin Campaign of 1943 was one of attrition; included is an easy to use campaign system to replicate that aspect, emphasizing that it's not just how many enemy aircraft you shoot down, it's also how many of your own aircraft are lost in doing so.
Campaign Introduction 
Dedication and Acknowledgements 
Authors' Notes 
Annotated Bibliography 
Campaign History 
Radar, Tactics, Leaders, and… 
Of Aircraft and Their Problems 
Campaign Aircraft 
Scenario Rules 
Scenario Special Rules 
Campaign System 
Getting Started Campaign Scenarios 
Increasing Pressure Campaign Scenarios 
The Height of the Campaign Scenarios 
Slowing Down Campaign Scenarios 
Sputtering to A Stop Campaign Scenarios