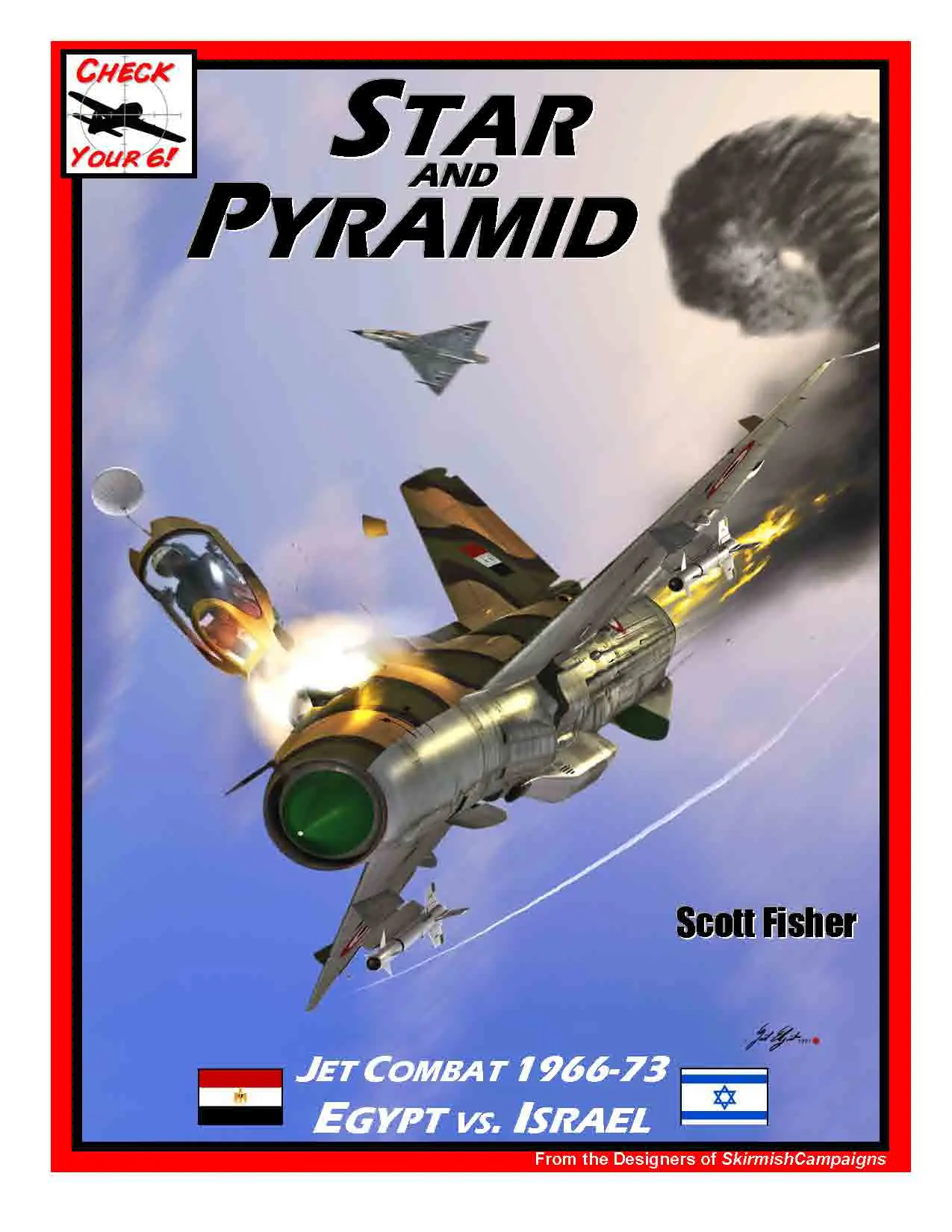 STAR AND PYRAMID is a scenario and campaign book for the popular Check Your 6 Jet Age Air Combat and Campaign Rules. The book provides comprehensive coverage of the air wars between Israel and Egypt between 1966 and 1973 under one cover with five campaigns and 27 scenarios. The scenarios can be played individually, linked to form campaigns, or combined as one grand campaign.
The book also features some of the world's top jet aces including Michael "Diamond" Haber, Dan Sever, Giora Rom, Avraham Salmon, Israel Baharav, Yiftach Spector, Asher Snir, Eitan Peled, Amir Nachumi, Eitan Ben-Eliyahu and Shlomo Levi. The book also presents the little known exploits of Egyptian pilots such as Mustafa Hafez, Nabil Shuwakri, Ahmad Atif, Qadri al-Hamid, and Nasr Mousa.
The book includes several introduction sections containing campaign historical background, an annotated bibliography for further reading, a color scheme guide, and a campaign map.
AIRCRAFT STATISTICS and CAMPAIGN INFORMATION:
The book contains aircraft statistics for more than 20 US, British, Israeli and Soviet-built aircraft in Check Your 6 Jet Age format for use in the scenarios. The book also contains detailed notes and rare pictures of the various aircraft featured in the campaign.
Jet Age SPECIAL EVENT CAMPAIGN SYSTEM:
This book includes an innovative Check Your 6 Jet Age campaign system that features the possibility of special campaign events in each scenario. By winning battles, players earn Campaign Events, similar to action cards, which are played during the scenarios. This campaign mechanic allows players to make real-time decisions that shape the battles while adding extra dimension to the scenarios.
Introduction
Acknowledgements and Dedication
Annotated Bibliography
Campaign Map
Campaign History
Six-Day War Campaign: Nov 1966 – Jun 1967
Attrition War Campaign: Apr 1969 – Jun 1972
Yom Kippur War Campaign: October 1973
Color Schemes
Campaign Aircraft
Campaign and Scenario Rules
Special Campaign Events Tables
Scenario Format
Campaign Scenarios